Captaincy is a double-edged sword , If the team wins, the shape of the pattern will not be noticed, but if the team goes through a low period, their performance will come under the radar.
After MCG's Boxing Day (2014) test ended in a draw, MS Dhoni announced his retirement from the red ball cricket with immediate effect, which caught everyone off guard. On the same tour , with unavailability of MS Dhoni , Virat led the team in the first test where he shows the great fighting sprit against mighty Aussies where Unlike his predecessor, he surprised everyone as he went for an unlikely win on the final day chasing 364 and he nearly pulled off a miracle before falling short by 48 runs.

Virat Kohli was handed the leadership role after MS Dhoni withdrawl from test cricket , India was placed 7th in the ICC ranking. When virat took over the captaincy in this longer format, Sachin Tendulkar retired a year ago, a new era dawned in Indian cricket. Zaheer Khan and Virender Sehwag bid adieu to international cricket in early 2014 just before Dhoni. Indian most trusted batsman in overseas condition DRAVID has already bid his final good bye , Ishant Sharma and Umesh Yadav had still not converted their potential to match-winning performances. R Ashwin had been found wanting in alien foreign conditions after a brilliant start to his Test career at home, while Ravindra Jadeja was grinding it out in the first-class circuit to make a comeback. On first appearance as his full time captain , he scored century in both the innings.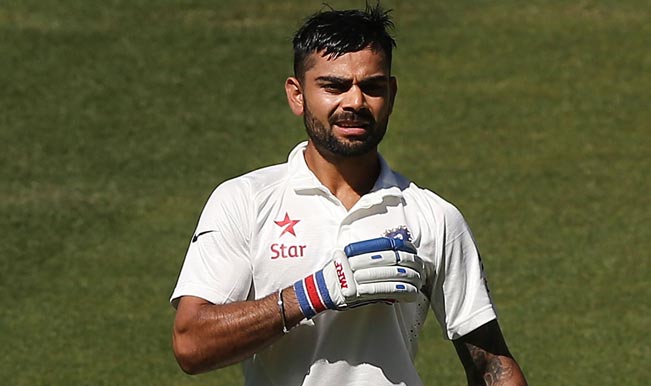 The responsibility of lifting India from doldrums in Test cricket wrested with Virat Kohli , Five years down the line, he led India to the top of ICC rankings, won back to back series in Sri Lanka and West Indies, became the first Asian captain to win a series Down Under and led India to unprecedented dominance at home winning eight rubbers on the bounce. With the win in Kingston, he became Indian most succesfull captain
He groom the team around him , trusted the player and their strength . He backed the players , motivated them. Promoted Youbgster like Pant ,Bumrah Siraj and many others. Same Youngster later wrote historical script in Down Under.
No team is built over night and same was with this new Indian team led by fearless captain. If one has to pick out the single biggest imprint of Kohli's captaincy, it is the emergence of the pace battery. Ishant and Umesh became far better versions of themselves under Kohli than under his predecessors. Mohammed Shami became fitter and added a cutting edge to his bowling in the second phase of his career. The emergence of Jasprit Bumrah in the longest format is one of the biggest success stories in Indian cricket.
Not only he has taken up captaincy like fish to water, but he also elevated his batsmanship to the next level. His average shoots up to 61 as captain compared to 41 as a player. Kohli is among that few player or captain who puts test cricket above all and his hungerness to do best in this team also one of the big reason for the team success across this format .From no.7 in ICC ranking , he took team to the number 1 and finished as number 1 team in year ends not once but in many occasion.
Leadership comes naturally to Kohli, whose personal form has been unaffected by the responsibility of captaincy. His biggest test was on 2018 England tour where india do lost the series but barring lords match none of the match was one sided and India had great chances of winning every matches but India batsman disappoints the skipper and none stood with him , where he finished the series as a leading run scorer with 593 runs .
Under Virat Kohli India is playing WTC final against New Zealand , this also makes him the only player to play all format of ICC final. No any captain has better stat (Win % ) than him in test cricket.